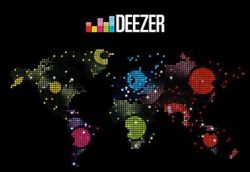 To say that Deezer has had an active year is an understatement. From raising an eye-popping 100€ million from Warner Music owner Len Blavatink, to beating Spotify on subscriber growth, to launching their App Store to rival Spotify's App Centre, their achievements over the last year have been seemingly non-stop. Now comes the news that they're extending their reach, having announced that they will be launching in 22 new markets. This brings their total market presence to 182 markets, far outstripping their biggest rival Spotify's 17. Pretty impressive for a company that did their first international expansion into the UK in september 2011.
As for the new markets, the two biggest ads are Brazil and South Africa, followed by 14 across North Africa and the Middle East (e.g. UAE, Tunisia, Egypt, , Saudi Arabia, etc), 5 in Asia (e.g. Hong Kong, Philippines, South Korea etc.) and one additional market in South America, Venezuela. For the moment, they've still decided to hold off on entering the big, high entry barrier markets, Japan, China, the US, and India. Although these market clearly offer substantial opportunity, Deezer has decided to stay on strategy and expand first into lower penetrated but promising markets and move into the 4 aforementioned markets when the timing and conditions are right. Elaborating on this point, in an article that appeared in the Wall Street Journal last December, their CEO Axel Dauchez, highlighted that while they very much would like to expand into the US at some stage, it's a market that is characterized by "unbelievably high entry costs, and also is one of the most competitive markets for online and streaming music". So, ultimately, they will be holding off until they find a solid, credible operator or blue-chip company that they can partner with to help make their entry as successful as possible.
Of course some of these new markets will be infinitesimal for Deezer in terms of revenue and number of paid subscribers. But, as their goal is to transform themselves into the leading global streaming player, presence in all these markets reinforces this positioning. Although they're still behind Spotify in terms of total users/subscribers, given their expanded reach and faster growth, Deezer has more than a good shot of pulling even with Spotify pretty soon.