On the first day of LeWeb, Fleur Pellerin, Minister of the Numerique in France, spoke alongside the new head of UK Tech City Joanna Shields and Katia Gaika, who heads up Russia's Skolkovo Foundation. The talk, moderated by TNW's UK Editor Jamillah Knowles, discussed the role of government in the startup ecosystem. While the conversation itself didn't dig too deep into the subject – the most interesting anecdotes came from Gaikat, who both discussed how Putin's presence in Russia causes stability,how Russia is "doing better than [France]," and that there are 50+ universities in Moscow (prompting her to say "I'm not sure why [Skolkovo] is building a new one, really." More interesting was the near one-on-one conversation that Fleur Pellerin gave after the talk ended, with Tariq Krim at her side in front myself, Rude Baguette's Trista Bridges, and WSJ's Ben Rooney.
Tariq Krim appointed to map out the Paris Startup Scene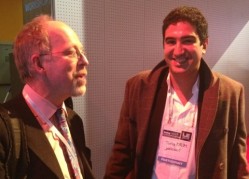 Rooney, I'm sure, will touch much more deeply on this conversation, which lasted until LeWeb kicked attendees out around 6:45PM, but the announcement to be made is that Tariq Krimhas been appointed for a three month position, during which he will work to identify key startups and key sectors which the French government can/should highlight. Meant to address France's near-debilitating inability to market itself, Krim recounted visits to Berlin and feeling like the whole city was pushing for its own success.


Much can be said about the French government's role and current agenda in terms of technology startups – but no one can saying they are sitting back and doing nothing. Fleur Pellerin has simultaneously stuck by a president who wants to tax the rich and the "97% of companies in France" (SMEs) producing jobs in France, and yet somehow has taken a very hard stance on the government's support of innovation. While her message is sometimes lost in the press, it seemed clear talking with her, that she sees two roles for the government in innovation: active & passive. The passive roles involve lowering barriers, creating good business conditions, and tax incentives for companies doing R&D, etc. – some of which France does well, others which they don't.
Pellerin commented that they are currently discussing with labor unions around having different employee rules for different sectors, siting the needs of the automotive industry vs. that of the tech industry.
She also discussed lightly France's desire to invest, though it seems well-meaning and nonthreatening  as they hope to invest in R&D, as well as in infrastructural innovation.
Tariq Krim getting back to his roots in Paris
The announcement of Tariq Krim's involvement in the Paris startup scene should raise the ears of many startups. With his global recognition and connections, his involvement in the startup scene will hopefully pass on some of his connections – as well as his distinctly un-French skill of being talked about globally – to the rest of the startup scene. Rude Baguette will be open to helping Krim out with mapping of the ecosystem, and we encourage any startups interested in what he's doing over the next three months to reach out to him as well.
Krim is quite passionate about the startup scene and digital economy in France, having previously published 5 thoughts on how to disrupt France. Krim will continue working at his current venture, Jolicloud, and his appointment is unpaid.