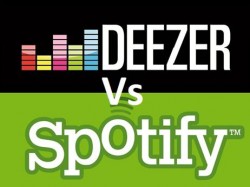 This week Orange & Spotify announced a partnership in which Orange customers in Switzerland with a "Orange Young" plan would receive Spotify premium for free, in addition to unlimited texting & calling as well as a sizeable data plan. Orange Young is Orange's cell phone plan offered to anyone 27 or under, and Orange's VP of Consumer Matthias Hilpert had this to say about the deal:
"Spotify is an ideal compliment to our Orange Young plan. All our under 27 users, in addition to having a non-binding contract, are able to carry al of their music at their fingertips."
This deal is the first time that France Telecom's subsidiary has worked with Deezer's competitor. TheNextWeb's Paul Sawers pointed out that Orange already has partnerships with Deezer in the UK and in Africa, which have allowed Deezer to grow rapidly. While Deezer is not owned by Orange (unlike Dailymotion), the two have been quite close in the past, and with Spotify putting the pressure on in Europe, this year may be tough for Deezer, who had a pretty good 2012.