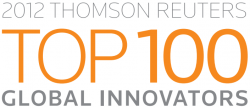 Thomson Reuters released their annual list of the Top 100 Global Innovators of 2012, and once again the USA, Japan & France have dominated the list, making up 85 of the 100 companies selected. Representing 47% of th list, USA continues to dominate in the IP market, up from 40% in 2011. Japan slipped from 27% in 2011 to 25%, and France rose from 11% to 13%, including Alcatel-Lucent, the CNRS (French national research center), EADS, L'Oreal, Michelin, Renault, Saint-Gobain & Thales.
"Across Europe there are five nations with one or more companies in the top 100 list. France is the innovation leader with 13 organizations spread across nine of the 21 industries, an 18 percent increase over 2011. France continues to be the nation with the most scientific research centers. This year's group – IFP Energies Nouvelles; cNRS, the French National center for Scientific Research; and commissariat à l'énergie atomique – are proving to be quite innovative and influential in driving future technology."
Germany & Sweden both dropped in representation, while Lichtenstein & The Netherlands dropped off entirely – the report pointed out that this is not to say these companies have lowered their commitment to innovation, just that they were unable to keep up with the pace of the new entries.
Company IP was judged on four criteria: Success, Global, Influence & Volume.
Innovation concentrated in Semiconductors & Computer Hardware
Categorizing each company into a category, it 31% of the companies specialize in Semiconducators(18%) or Computer Hardware(13%). Speaking of the continued trend, the report said:
"The most prevalent industry within the Top 100 list is Semiconductor & Electronic components for the second year in a row; 18 of the 100 companies are from this sector, a 29 percent increase over 2011. The four new entrants in this area specialize in analog and logic devices. Twelve, or 67 percent, of the 18 are from the U.S.; the remaining six are evenly split between Japan, South Korea and Switzerland. Semiconductors are a critical component of many items used daily, from smart phones, to computers and automobiles to more—the growth here reflects just how essential they are to life in the 21st century"
As IP grows in importance in Europe, it is clear that the countries who have a solid basis of IP-backed innovation will be better suited to create new innovation. The US & Japan are already giants in IP – just look at Japanese Softbank's entrance into the US market through acquisition of Sprint – if France can continue to harvest its resources for innovation, it will be well suited in the coming years to produce more of the world's most innovative products.
There are plenty more insights into how IP success correlates with company success, so definitely read up on the report here.