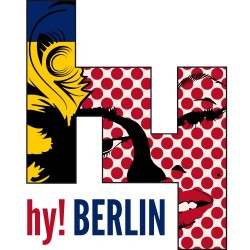 Next week I'll be heading out to Berlin for my first visit there in a few years, and one of the exciting events that caught my attention is hy! Berlin. Bootstrapped by entrepreneurs, the event brings 150 movers and shakers in the startup ecosystem to see the best of what Berlin has to offer Europe and the world. The event is just a few days before The Europas, the European equivalent of The Crunchies, with DLD Munich falling in between.
Like many events, hy! Berlin is hosting a startup competition, and applications are open until the end of the week. Winners get 15K€ and a trip to the Silicon Valley, but that's not why I think French startups should apply: winners are also invited to an event that incldue Om Malik (founder, GigaOm), MG SIegler (Founder Crunchfund, writer for TechCrunch), and many other movers and shakers – for an early stage startup, this is a great first impression to make.
Startups shouldn't expect that this kind of competition will secure a round of funding of any size, but presence and this event will define your startup as a European startup, and not just a French startup (with all the negative connotations that this title comes with).
I'll be writing from Berlin all week next week, and already have plans to meet Frenchies in Berlin, as well as other great people there, so expect some Berlin-themed articles in the end of January. If you'd like to connect with me while I'm out there, shoot me an email, comment below or whatever you'd like.
To get pumped about the event, here's a re-cap from the last event, held in October 2012: