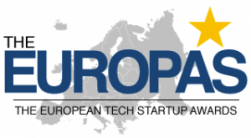 European startup award ceremony The Europas has announced the shortlists for every award category of their ceremony going on in just 10 days in Berlin. We shared earlier the French nominees for the people's choice award – today we thought we'd share the nominees for Best French Startup, as well as a bit about them:
Wisembly: Formerly Balloon, Wisembly, founded by first time entrepreneur Romain David, first made headway in the events & gatherings space with its event applciation Balloon, one of the first live Q&A applications. Featured at events like StartInParis & LeMashup, Wisembly pivoted towards a more B2B approach this past October, taking the infrastructure and experience it had learned in order to help businesses better manage their meetings.
qunb (pronounced "Q n' B"): A graduate of LeCamping (which is nominated for Best Accelerator), qunb has branded themselves as YouTube for statistical data, providing a one-stop source of information for compiling, comparing, graphing, and visualization statistical data, whether it be number of internet users by country, or number of firearms in the US vs. the rest of the world (too soon?). They won 1st place in the LeWeb Paris '12 startup competition.
Bime: maker of We Are Cloud, one of the cloud services from our Cloud Series, We Are Cloud is a SaaS Busines Intelligence solution. Based in Montpellier, we sat down with co-founder Rachel Delacour last summer to talk about BIME.
BlaBlaCar: If this is the first time hearing about BlaBlaCar, then it must be your first time on this blog. The P2P ride-sharing service has taken Europe by storm, and recently rolled out a campaign called Be Trustman, targeting building trust on the web.
Clever Cloud: founded by the King of Nantes, Clever Cloud is actually the cloud solution that Rude Baguette uses to host our website. Having launched last October at Dublin Web Summit, Clever Cloud hopes to take on the likes of Amazon Web Services, offering a smarter cloud hosting solution. The Nantes-based startup is backed by Kima Ventures, of whom co-founder Jeremie Berrebi is nominated for Best Mentor/Advisor.
Jolicloud: the Prodigal Son returns – Netvibes co-founder Tariq Krim came back to Paris to launch his second venture a few years back, and this time his aim isn't just to be the home page for the web, but the home page of your Cloud. Whether it's an Operating System, a web app, a mobile app or a full computer, Jolicloud keeps pushing at it again and again to create the be all to end all interface for your data stored in the cloud, whether it be on Facebook Twitter or elsewhere. Tariq Krim was recently appointed by Fleur Pellerin to help the government "map" the Paris Startup Scene.
Storific: this Bordeaux-based startup launched their mobile payments service with a bang when it came out that their first client was McDonald's and Paypal, who rolled out their solution in select stores in France. Cofounder Michael Cohen represented Storific in the semi-finals of the Dublin Web Summit's startup competition, which had about 100 startups competing.
Teleportd: Gabriel Hubert and Stan Polu have been doing great things, having started from the beginning with a simple idea: creating value out of geo-tagged public photos uploaded to the web by users. Now providing analytics to some of the biggest brands for Instagram through their recently launched service Nitrogram, Teleportd raised $1 Million just a few months back from the likes of Connect Ventures & a few very notable business angels.
Trendsboard: In fact, Trendsboard is the only startup nominee that we haven't written about before. A real-time analytics platform, Trendsboard works with many of France's major media outlets to increase traffic and engagement to web services.
WriteThat.Name: founder Philippe Laval towers over the ecosystem – not only because he's about two meters tall, but because he's a serial entrepreneur and regular speaker/mentor at events like Seedcamp Paris, Founders Institute and LeCamping. WriteThat.Name uses semantic analysis to scan your incoming emails and update your address book appropriately with the sender's contact info, meaning you will always have an up-to-date address book.
Other French startups nominated in The Europas
In addition to best French startup nominees, French startups have pretty good representation across the board:
The "Youtube of 3D Content" Sketchfab is up for Best Leightweight Startup (less than 12 months old)
BlaBlaCar is also up for best transport, travel or environment startup
Commerce Guys are up for best Commerce, Finance or Payments startup, as is Dashlane, a half-NY half-French startup
Pictarine & Sketchfab are nominated for Best Entertainment, Audio, or Video Startup
Jolicloud is up for best Social Mobile or Apps Startup
Babelverse (French co-founder) is nominated for best Business Recruitment or Enterprise startup
Teleportd is up for Best Advertising or Marketing Startup
Both Sparrow (Google) and Pulpfingers(500px) are up for Best Exit of 2012
Ballou PR is up for best Service Provider
Interestingly enough, no French VCs are up for best VC of the year – I'm not surprised.
I'll be out there cheering on our French startups, make sure you show your support as well!