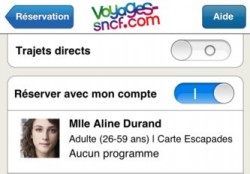 I wrote a little while ago about a startup called Capitaine Train, which raised $2 Million in order to bring a unified train travel ticketing experience. I have been outspoken about my lack of conviction about this business model – it's not quite the kayak of the train travel industry, and their largest value-added is bringing a more Web 2.0 UX to purchasing tickets. The layout is admittedly agreeable, though I've gotten in the habit of buying tickets on my mobile phone a few hours before I catch the train.
Up until today, that was a pain, as the mobile SNCF app asked me to input all my information every time (name, age, frequent travelers card , credit card info, etc.) however, today I opened up to find that SNCF now stores all my info! All I have to do is input my security code on my credit card (the app hides about half of my credit card number, including the last digit and the first few, so I can still securely verify which card it is). I then input my account password and its done.
The app is still clunky, but it immediately creates an event in my calendar for the train travel (with seat number and everything), and I can pull up a QR code of my ticket for the agents to scan on the train (or they can just search by name). This kind of low-maintenance ticketing is enough for me, and Is reminiscent of Capitaine Train's desktop app. A quick check on the App Store tells me that Capitaine Train, to date, does not have a mobile app.
I've been critical of Capitaine Train in the past – there's a Quora thread somewhere where I disputed with co-founder Jean-Daniel Guyot about whether there's really a market for a 3rd party train ticketing platform like there is for air travel. I tried Capitaine Train a few times – I like it. It's quick, it remembered my info. But when I'm on my mobile, and the SNCF app works well enough, why would I go somewhere else?