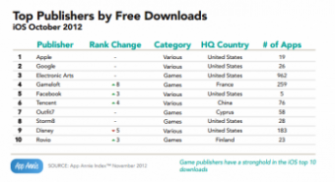 Gameloft, one of France's most famous games industry success stories, has established itself as a force to be reckoned with in mobile gaming.  According to App Annie's October index, Gameloft jumped 8 places to #4 in the ranking of top app publishers by free download on iOS and is holding steady at #4 amongst game publishers in terms of iOS revenue.  As iOS is increasingly dominated by Japanese and US publishers, particularly on the revenue side, this is an impressive feat.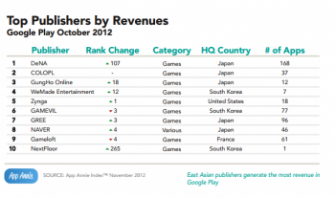 The Google Play side tells a bit of a different story.  Games, in general, appear to have a much stronger hold on iOS than Google Play as 8 of the most downloaded apps on iOS are games while on Google Play only 2 game publishers appear in the top 10.  Amongst game companies, east Asian publishers have shown an impressive capacity to monetize on Android as 8 of the top grossing game studios are Japanese or South Korean.  Gameloft, who looks to have lost a bit of ground over the past month, and Zynga are the only non-Asia based publishers that appear in the top 10.
Gameloft appear to be on a bit of a roll lately, having successfully made the transition to freemium and paymium models for many of their titles, which they started using in March 2011.  Not only have they been having a great deal of success on the download and iOS revenue sides of things, but their overall revenues have grown substantially this year (as reported in gamesindustry.biz), having posted a 37% revenue jump in the third quarter to €55.4 million and a 9-month growth of 128% to €150.6 million.  Much of this growth has been driven by mobile games (smartphones and tablets), which saw 124% combined growth for the company and made up 56% of Gameloft's sales.  In-app purchase have been such a driver of their mobile revenue growth that they now account for 60% of their smartphone revenues.  Having been around since the first tech boom, Gameloft is a great example of a company that seems to know exactly how to pivot as the industry evolves.