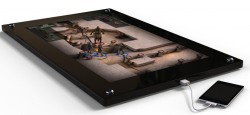 ePawn has announced a round of funding of €1M from Elaia Partners in order to bridge the connection between machines & real-world objects by using its patented technology to allow machines to detect the position of objects & interact with them. It is currently licensing this technology to major players in the video game & toy sectors, as well as the consumer electronics space. Founded in 2010 by Christophe Duteil and Valentin Lefèvre, ePawn has already presented its technology at E3 in Los Angels, CES in Las Vegas, Innorobo in France and Salon spiel in Germany, where it shows off not only its technology, but it's giant screen that allows physical objects to interact with virtual ones (seen above).
We plan to change the game industry by ushering in an era of "video toys," objects with a natural, simple inferace which allow futuristic-like gameplay. After 2 years of R&D and with several patents filed, ePawn is ready to begin a new phase of development in order to become a global player in the gaming world, and in the world of the Internet of Things."  – Christophe Duteil, CEO of ePawn
This investment represents the second investment for Elaia Partners using
their new €45 Million seed fund
, after a €2.5M investment in Mirakl
just three weeks ago
, which they raised at the end of October. They've been quite active in the French startup scene, and have been particularly successful in their previous investments –
Criteo
,
Sigfox
,
Ykone
,
Allmyapps
&
more
–  which afforded them the ability to raise a new round of funding in a time where it's becoming increasingly difficult for VC funds to raise rounds dedicated to internet & technology.