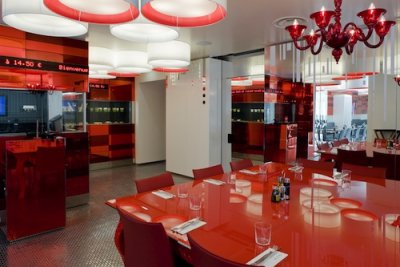 SFR and its partner SFD (the company managing Le Studio) have announced that they will be closing their concept store, "Le Studio", located in Paris' upscale 8th arrondissement.  Le Studio opened is doors in 2008 and was, above all, about offering their customers an unsurpassed 'luxury' service experience.  It was unique in the sense that it strived to be a full 'concept store', offering a boutique, a demonstration space, event and conference space (which was, incidentally, often used by startups), and a restaurant-bar (Carré Rouge).
Unfortunately for Le Studio, it was one of the first, but likely not the last victim of SFR's recent flagging fortunes. SFR has, infact, had some positive news of late with their deal to lauch 3G in (parts) of the Paris regions metro and suburban rail system, an uptick in customer acquisition resulting in more positive results in recent months, and a bolder strategy to improve its position and properly respond to Free.  However, it's hard to deny that having lost 673k clients during the first half of the year to Free and, consequently, entering a changed telco environment where ever tighter margins have become the norm, has been a dauting challenge for SFR.  Although their business performance has improved a bit during the third quarter, SFR's future has become increasingly unclear with rumors of a link-up with everyone from Numericable or Free to Egyptian billionaire investor Naguib Sawiris.  Given all of these changes as well as impending lay-offs, it really wouldn't make much strategic or financial sense for SFR to continue to keep Le Studio open.  It's evident that SFR's new CEO Stéphane Roussel, is looking to refocus his organization on a few key strategic priorities which, if all these rumors about SFR/Vivendi actively seeking a buyer are true, have become even more critical.
Leave a Reply
You must be logged in to post a comment.