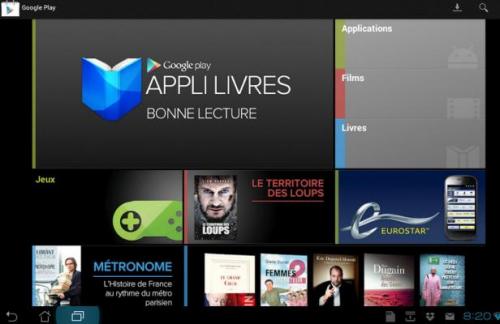 Early last month, Google came to an agreement with various book publishers and authors, ending a 6-year dispute which centered on the digitisation of out of print French works.  In return for getting the publishers' and authors agreement to bring hundreds of thousands of previously out of print French works to the market, Google also agreed to ensure that publishers and authors retain control over the commercial use of their book, sponsor both the publishers' New Young Reading Champions Program and the Publishing Laboratory – le Labo de l'édition (helps publishing startups and other partners test digital technologies), and support authors' effort to build a comprehensive database of published writers.
Now just one month after the agreement, Google has put the plan into action, announcing this week the addition of French books to Google Play.  This makes France the fifth European country to have its books launched on Google Play.
At the same time, the government has announced that they want to see a viable French alternative to the American players (Amazon, Apple, and Google) and, as a result, will finance the project to create a 100% French digital library.  The project is, yet again, another initiative that will be led and built by France's established, large companies rather than it's entrepreneurial sector.  Orange and SFR will (yet again) be involved as well as various book publishers and leading book retailers Fnac and La Procure.